Established more than 10 years ago, l'ABCD'Aire is a second-hand market specialist. With a showroom of over 1,000 sq. m, we are able to stock a huge range of merchandise: furniture, decorative items, white goods, video and hi-fi equipment, garden tools and DIY items - to name just a few.

In line with Depot-vente terms and conditions and working on commission only, we will undertake to sell your second-hand goods for you.

L'ABCD'Aire is also an antiques/brocante centre, working with both French and foreign dealers as well as private individuals.

Finally, we are also able to offer at highly competitive prices, a wide range of new furniture, lamps, pictures and other miscellaneous decorative items.

The arrival of merchandise on a daily basis means that ther is always something new and different to see - at prices to suit all pockets !

L'ABCD'Aire Simply cheaper - so you know you're getting the best deal !!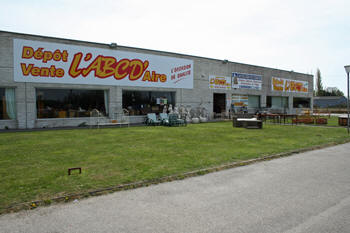 Opening Hours :
Tuesday - Saturday from 10 a.m. to 12 a.m. and 2 p.m. to 7 p.m. Sunday afternoon 3 p.m. to 7 p.m.
You may deposit goods with us Tuesday to Friday, 2 p.m. - 6 p.m.